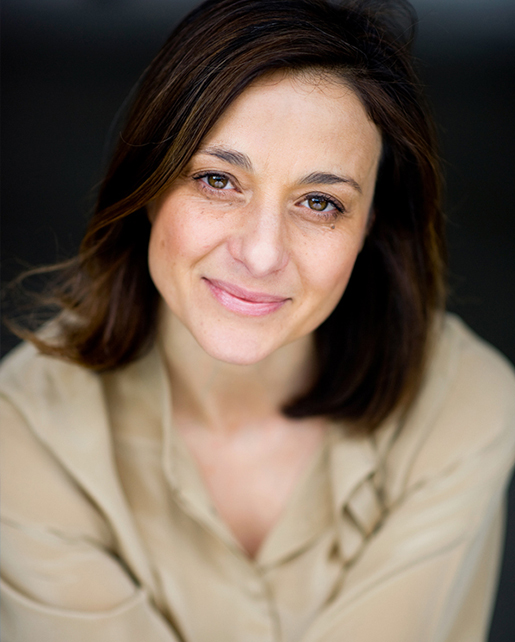 Daniela Farinacci has most recently been seen as 'Maria' in the ABC television series GLITCH, directed by Emma Freeman and telemovie, REDFERN NOW – PROMISE ME.

Daniela was nominated for a Most Outstanding Actress Silver Logie for her work as Maritza Wales in the popular Australian telemovie, THE SOCIETY MURDERS. Daniela's other television credits include LOWDOWN, DANGEROUS REMEDY, JACK IRISH: BLACK TIDE, MDA, THE SECRET LIFE OF US, PUBERTY BLUES, SNAKE TALES, CARLA CAMETTI, CITY HOMICIDE, THE HEARTBREAK TOUR, BLACKJACK-ACE POINT GAME, RUSH, BLUE HEELERS and three seasons of the SBS series EAST WEST 101 which received the 2012 Equity Award for Outstanding Performance by an Ensemble in a Drama Series.

Daniela has been widely acknowledged for her roles in award winning films such as LOOK BOTH WAYS, where she was nominated for an AFI Award for Best Supporting Actress, Daniela is perhaps best known for her role as Paula in LANTANA. For this role Daniela won an IF Award for Best Actress, a Film Critics Circle Award for Best Supporting Actress and was nominated for an AFI Award for Best Supporting Actress. Daniela's other feature credits include Rowan Woods' LITTLE FISH, Nadia Tass' MATCHING JACK, Sarah Watt's MY YEAR WITHOUT SEX and LOU directed by Belinda Chayko.

Daniela's theatre career spans numerous productions for companies including Melbourne Workers Theatre (WHO'S AFRAID OF THE WORKING CLASS), Arena Theatre and Melbourne Theatre Company, notably appearing as Matilde in THE CLEAN HOUSE, directed by Kate Cherry for which she was nominated for a Green Room Award. Daniela received further Green Room Award nominations for her role in METAMORPHOSES for MTC in 2003 and for her role in the Melbourne Independent Production TRAITORS in 2005. Most recently Daniela has performed in HELICOPTER and YELLOW MOON (both directed by Leticia Caceres), and RUPERT directed by Lee Lewis (which toured to Washington D.C.), for the MTC.
IMDB PROFILE